Here in the eastern USA, we are getting ready for the Pittsburgh Vintage Grand Prix (PVGP) which starts next weekend. It's about an 8 hour tow for us and we will head out from the Jersey Shore on Thursday.
The event is a double weekend affair: the first weekend is held at Pittsburgh International Race Complex (sometimes called "PIRC" or "Pitt-Race"). This circuit was formely callled "BeaveRun" and was designed by race-circuit architect Alan Wilson.
The second part of the weekend is held on public roads in the city of Pittsburgh through an area known as Schenely Park.
Imagine if they closed down the public roads around Regent's Park in London and held a wheel-to-wheel car race there? This is sort of the same thing that they've done at the PVGP.
Amazingly, they've been getting away with this since 1983.
Part of the reason this event is so well supported by officials in Pittsburgh is because it's a fund-raiser charity event that helps support the Allegheny Vally School; a school in the Pittsburgh area for autistic children. The school was the brainchild of Myron Cope, a beloved, local sports newscaster. Mr. Cope and his wife had an autistic son. And Mr. Cope was also one of the initial people to help create the PVGP race event.
Some years ago, when I first got invovled in the PVGP, my wife already knew quite a bit about the charity it supports. Before we had ever met, she was a local social caseworker in Pittsburgh who worked with the Cope family for the care of their son.
Anyway, it's a great event for a good cause. I will post photos and videos when I get back.
Here are some photos of my car in Schenely Park last year: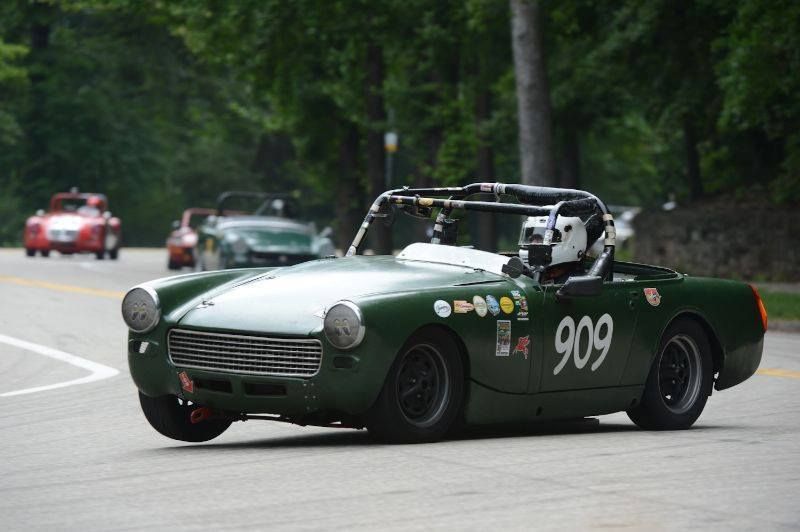 Since Schenely Park is lined with stone walls, it is an unforgiving venue.
Here's a video link below where I started this session from the pole. But the initial portion is uphill and my tired 1275 is no match for a hot 1380 Mini or 1500 MGA, 1500 Elva, etc. Watch the lead Mini around 1:30 in the video. Hub failure causes a hard wreck against a stone wall and the car was badly "tweaked" and written off (it's been replaced by a Super 7).
https://www.youtube.com/watch?v=Mu507gyXHiE
.
More about the history of the PVGP
~HERE~
.