Nippon Challenge: Castle Combe 30th May 2011
"First Line" Japanese Race Day
Preview:
Following the last event at Brands Hatch, the Nippon Challenge road show rolled into Wiltshire and to the circuit which is Castle Combe. Showing no signs of slowing down, this popular race series is bucking the trend of low grid numbers and providing close racing for the club racer.
With a full grid last time out here in 2010, the promise of a "Japanese Race Day" was expected to draw in both the competitors and the crowds, although the torrential rain was out to spoil the fun. With rivers in place of tarmac, the conditions would be challenging for all involved.
Racing alongside the Nippon Challenge were:
Mazda MX5 MK 3 cup
Toyota MR 2 Championship
Mazda MX5 MK 1 Championship
Castle Combe Saloons Car Championship
Castle Combe Sports & GT Championship
Castle Combe Formula Ford 1600 Championship
Race Day:
With rain looking like being the only weather on the cards for the day, it was going to be an "interesting" days racing.
Super GT
01 Jonathan Blake Mazda MX150r
16 Vaughan Fletcher Subaru Impreza
50 Yaser Almagrhrabi Daihatsu Charade GTi
96 Jason Langan Suzuki Swift GTi
97 Andy McLennan Suzuki swift GTi
GT300
25 Anthony Allitt Honda Civic Type R
91 Paul Hughes Honda Integra DC5
GT250
06 Nick Read Toyota MR2 Mk2 Turbo
11 Adam Lockwood Nissan Pulsar
35 Rob Jefferies Toyota MR2 MK1 Turbo
83 Lee Bennett-Neil UK Honda Integra Honda Integra DC2
85 Stewart Hutchinson JDM Honda Integra DC2
GT200
20 Garry Chappell Toyota Celica GT
22 Ross Stoner Toyota Celica GT
66 Alok B Iyengar Toyota Celica GT
69Eliot Dunmore Toyota Celica GT
92 Paul Cowland Honda Civic
93 Wayne Ainsworth Honda Civic
94 Andy Howells Honda Civic
98 Michael Hamlett Honda Civic
99 David Payling Honda Civic
GT150
03 Garry Lawrence Toyota MR2 Mk1
26 Richard Avery Toyota MR2 Mk1
38Charlotte Burridge Toyota MR2 Mk1
45 Terry McLoud Toyota MR2 Mk1
55 Mark Woods Toyota MR2 Mk1
56 Nathan Harrison Toyota MR2 Mk1
59 Dave Hemingway Toyota MR2 Mk1
60 Jonny White Toyota MR2 Mk1
70 Dave Morgan Toyota MR2 Mk1
77 Steve Harman Hyundai Coupe
80 Dave Thomas Toyota MR2 Mk1
SUBARU CUP
07 Kevin Middleton
14 Karen Philips
29 Rich Senter
All classes were well represented and the day looked like providing some close class battles.
Super GT
The ever popular Swift of Andy McLennan was out looking to add his 2011 wins tally from Silverstone and Brands, and with the addition of a second "Hellier Motorsport" Swift, driven by Jason Langan and Yaser Almagrhrabi in his Daihatsu Charade GTi, a close battle could be expected.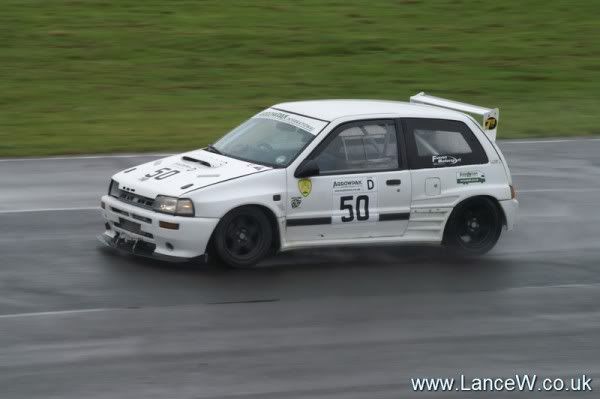 However McLennan's more reliable Swift of late, has seen him busy taking the scalps of the more powerful but heavier machinery. With this in mind we would be likely to see him near the front of the pack nipping at the heels of his rivals.
Vaughan Fletcher was back out to race at one of his favourite circuits, and would be expecting a hard time from the super quick McLennan, Hughes and the Subaru Cup contingency.
GT300
With no GT300's at Brands, it was a welcome return for the class at Combe.
Paul Hughes was returning to more familiar territory by putting his DC5 Integra through its paces. In the GT300 class, he would be leading the charge for the Buddy Club brigade, and fellow Honda driver Anthony Allit rounded off the class with his CTR.
GT250
Stewart Hutchinson in his impressive JDM DC2 Honda Integra and Lee Bennett-Neil in his similarly matched UK spec DC2 would be aiming to be the N/A "thorn" in the sides of the turbo'd Toyota's and Nissan Pulsar in the GT250 class.
Lee Bennett-Neal with his green Integra has been having a good season to date, but not having raced at Combe before, and up against some worthy opponents he would have to pedal hard.
Following his early retirement at Silverstone, the now repaired Nissan Pulsar of Adam Lockwood has found a new home in GT250, and will be hopeful of better results.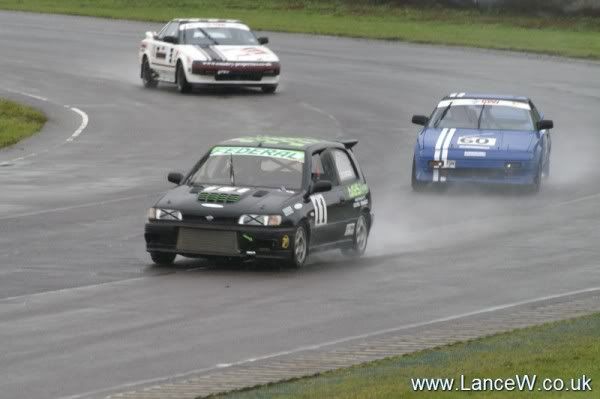 GT200
With an almost even mix of Celica's and Civics in GT200, it would be a Honda v Toyota battle for class spoils, and it would no doubt create one of the biggest battles of the day with such closely matched competition. With a good turn out again for the BCCC, front runner Paul Cowland would be looking to add to his silverware collection, whilst fending off the chasing pack.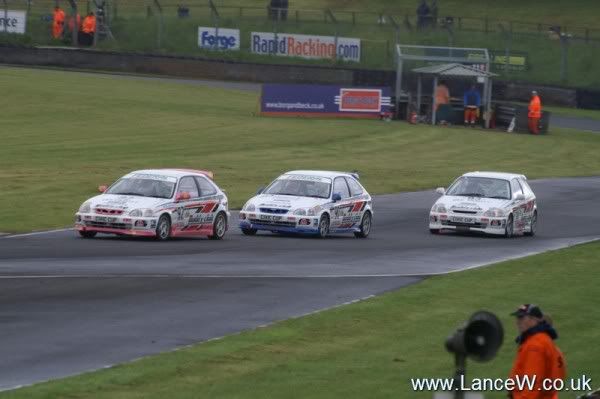 GT150
The MR2's in GT150 were taking advantage of running in both the "Nippon Challenge" and the "Fuchs Titan Race MR2 Racing Series" at Combe. A case of double your pleasure, double your fun! The only non MR2 in class was the Hyundai Coupe of Steve Harman.
Subaru Cup
Following a stint in the "Tengudo Motorsport" Impreza, Karen Philips was back racing in her own Impreza, and having spent some time familiarising herself with the circuit during the recent "Japfest" event she would be fighting for the top step in the SC.
Joining in the fun for Combe, would be Richard Senter, (Karen's partner) in the "Tengudo Motorsport" Impreza. Team principal Martin White secured a 3rd in class at Brands Hatch and 4th overall with the Subaru, so the #29 Subaru is capable of producing the goods. Hopefully there would be no team orders between drivers!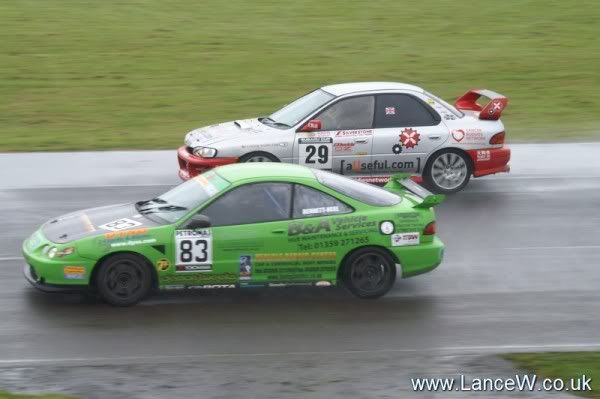 Kevin Middleton rounded off the class, and was out again in the X-Spec Impreza, having taken the step to move from his GT150 MX5 earlier this year.
Qualifying:
With only 4 laps possible due to the appalling weather and number of on track incidents, the grid was probably going to be one of the most mixed up of recent times.
Any more waved red flags, and it was in danger of being mistaken for a Spanish bull fight instead of a motor race!
Richard in car #29 paid a visit to the tyre wall, but thankfully any damage incurred was soon rectified by the team at "Tengudo". Another driver thankful of a good team to back him up was Paul Hughes, who was in the worst possible situation when he collided with one of his teams Civic Cup racers and damaged the radiator of his Integra. Thankfully for him he was able to be repaired and out for race 1.
The conditions had played into the hands of the lower power classes, with GT150 cars placed much higher than we have come to expect, with 3 MR2's in the top 10.
Pole: Vaughan Fletcher Subaru Impreza SGT
2nd: Yaser Almagrhrabi Daihatsu Charade GTi SGT
3rd: Eliot Dunmore Toyota Celica GT200
4th: Kevin Middleton Subaru Impreza SC
5th: Paul Cowland Honda Civic GT200
6th: Charlotte Burridge Toyota MR2 Mk1 GT150
7th: Dave Hemingway Toyota MR2 Mk1 GT150
8th: Stewart Hutchinson JDM Honda Integra DC2 GT250
9th: Richard Avery Toyota MR2 Mk1 GT150
10th: Ross Stoner Toyota Celica GT200
Race 1
Very Wet
With both the turbo'd GT250 class Toyota's of Nick Reed and Rob Jefferies out, the grid numbers were back up to 34 with the additions of Anthony Allit in the GT300 Civic Type R and Alok B Iyengar in his GT200 Celica, who had both missed qualifying.
With the red lights out, Fletcher held position to hold onto his lead from pole position. The silver Subaru of Kevin Middleton used his 4wd to great effect and sliced his way through from the 2nd row to overhaul 3rd placed Dunmore in his GT200 Celica and 2nd placed Yaser in his SGT Daihatsu.
Stewart "Viper" Hutchinson also capitalised with a great start and followed the Impreza of Middleton through the pack to hold 3rd.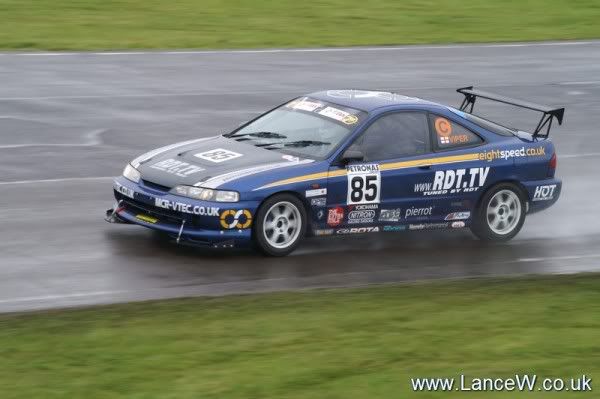 By lap 2 Hutchinson and Yaser had dispatched the Impreza of Middleton and sat in 2nd and 3rd respectively until the chequered flag dropped.
Despite the text book start Middleton began to drop back down the field until on lap 4 a visit to the gravel at "Quarry" signalled the end of his race.
Further down the field, cars were still struggling for grip, and both remaining Impreza Cup cars found themselves in difficulty.
Anthony Allitt paid a visit to the pit wall on lap 3 which meant the driver from Neath was back in the paddock sooner than expected.
The GT150 and GT200 cars showed that they could have their day, with places throughout the top ten.
1st: Vaughan Fletcher SGT
2nd: Stewart Hutchinson GT250
3rd: Yaser Almagrhrabi SGT
4th: Eliot Dunmore GT200
5th: David Hemingway GT150
6th: Richard Avery GT150
Fastest lap: Vaughan Fletcher 1:32.231 on lap 8 of 8
DNF
07 Kevin Middleton
25 Anthony Allitt
Class Wins:
SGT Vaughan Fletcher
GT300 Paul Hughes
GT250 Stewart Hutchinson
GT200 Eliot Dunmore
GT150 David Hemingway
SC Karen Philips
Race 2
Drying
The drying circuit for race 2 would be ideal for the rapid FWD cars that were at the head of the field.
Both Allitt and Middleton had got their respective cars out for the start for Race 2, although the grid was down 6 of the MR2's.
With lights out, it was a clean get a way, with Fletcher leading the way up "Avon Rise".
Eliot Dunmore in his Celica came through from the 2nd row of the grid to tuck in behind Fletcher in his Subaru and take 2nd place off Hutchinson in his JDM DC2 Integra.
A lap later Stewart returned the favour and re-took 2nd place to hold position until the end of the race, and Yaser in the 3 cylinder Daihatsu put in a great performance to claw back his lost positions to claim 3rd and close out the top 3.
McLennan was on a storming drive to drive from up from 10th to 4th by lap 6, but a tussle with Yaser for 3rd resulted in the Swift paying a visit to the grass and dropping him back to 7th overall.
Paul Hughes in his GT300 DC5 Integra came up through the field from 11th to finish 4th overall and 1st in class.
Candidate for drive of the day however had to be Kevin Middleton in the X-Spec Impreza, who having started from the back of the grid, came through to finish 5th overall and 1st in class, passing both other "Cup" Impreza's in the process and leaving them in his wake.
1st: Vaughan Fletcher SGT
2nd: Stewart Hutchinson GT250
3rd: Yaser Almagrhrabi SGT
4th: Paul Hughes GT300
5th: Kevin Middleton SC
6th: Eliot Dunmore GT200
Fastest lap: Vaughan Fletcher 1:17.047 on lap 7 of 9
DNF
11 Adam Lockwood
94 Andy Howell
Class Wins:
SGT Vaughan Fletcher
GT300 Paul Hughes
GT250 Stewart Hutchinson
GT200 Eliot Dunmore
GT150 David Hemingway
SC Kevin Middleton
Despite the weather, the racing was honest, with some great battles throughout the field.
Well done to everyone involved and thanks to Lance for the excellent pictures.